Disclosure:
This is a sponsored post. All my opinions are mine.
I admit one of my kids does not like to drink water. My Summer Babe loves to drink water. She gets thirsty easily. I love to drink water as well compared to pop, juice and milk. I prefer water myself. Though my husband does not like to drink water. It must be a boy thing I guess.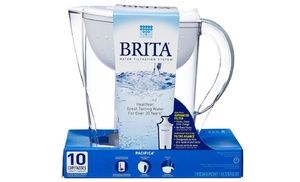 We have a gallon of purified water delivered to our house every month. We usually finish two gallons of jar every month. We always have one extra gallon. When my husband's eldest daughter was here, she used water. We used all the three gallon of waters. I also bring water bottle to work with me. Sometimes my husband brings two bottled water to work with him. I wish we use this  water filters from Groupon Goods. I always  find their Website the best way to save from everything we need. If you are looking for water filters to keep your student hydrated in going to school, I recommend you to check out the Website. There are many brands that are available to help you save money.
My kids are still off from school. They are going back the day after Labor Day. How about your kids? Are they back in school yet? Did you buy their school supplies yet? Make sure you add the water filters on your shopping list as well. If you have not like their Facebook or follow their Twitter yet, you are missing big savings.